Tooling Product samples and applications shown below!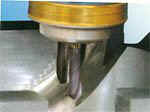 Drills -Routers -Reamers -End Mills -Carbide Burrs -Port cutting tools
Solid Carbide burr tools bonded to highspeed steel shanks of various lengths are stocked or made to order by SFS Carbide Tool Company.
TYPE OF CUT
RECOMMENDED USE
Standard Cut
STANDARD CUT is a general purpose tool designed for cast iron, copper, brass and other ferrous materials. It will give good material removal and good work piece finishes.
Fine Cut
FINE CUT improves finishes on hardened steel, stainless steel and cast iron. CNC Operator control is improved.
Coarse Cut
COARSE CUT is recommended for use on soft material such as copper, brass, aluminum, plastics, and rubber, where chip loading is a problem.
Chip Breaker
CHIP BREAKER CUT will reduce sliver size and improve operator control at a slightly reduced surface finish.

Standard
Double-Cut
STANDARD DOUBLE-CUT allows for rapid stock removal and better operator control. Chip size is reduced and tool speed can be slower than normal speeds.
Coarse
Double-Cut
COARSE DOUBLE-CUT is for fast stock removal in soft materials. Allows good operator control and produces small chips.
Fine
Double-Cut
FINE DOUBLE-CUT is very effective on heat treated and tough alloy steels. Chip size is reduced and it offers good operator control.
Aluminum Cut
ALUMINUM CUT is for use on non-ferrous and non-metallic materials. It is designed for rapid stock removal with minimum chip loading.
Diamond Cut
DIAMOND CUT is very effective on heat treated and tough alloy steels. It produces very small chips and good operator control. Surface finish and tool life is reduced.

Tungsten carbide cutting and boring tools are smaller now than ever before, and seem to be getting smaller every year. To meet this challenge, SFS Carbide
cutting tools are fabricated exclusively from the advanced tungsten carbide composites developed and supplied by domestic and foreign suppliers. Ultra-fine grain cemented ceramics are the result of an extensive development program aimed at optimizing the very best of cemented carbide technology to achieve an exceptional combination of hardness, toughness, and strength for demanding cutting jobs.
These extraordinary properties have been achieved by producing tungsten carbide with a grain size of only 0.4 micron. We select grades of solid carbide blanks to accommodate the application at hand from precision dental drills to industrial reamers and engine cylinder ball cutters. Generally speaking, the need for reliable small hole drilling and the accompanying demand for extended tool life has necessitated the use of the finest grades of carbide currently available. The bulk of our tools are fabricated from 6 to 10% cobalt blanks, which are recommended for solid carbide rotary tool applications. Call SFS engineers to discuss any of your CNC machining tool requirements.
All of our drill bits, reamers, ball cutters, burs, routers and cutting tools are produced on Rollamatic multi-axis CNC grinding machines and are fully inspected using the latest laser and/or optical metrology techniques. Drill diameters are held to +0.0000"/-0.0004", end mill and router diameters to +0.000"/-0.001", overall tool lengths to 0.005", and depth set ring locations to 0.004". Tighter tolerances and custom geometries are available upon request as no job is too large or small for our tool making specialists. Call for pricing and we can built short run prototypes from your blue prints and tool samples.
---
We can manufacturer precession cutting tools from Blueprints, or samples, and guarantee they will meet or exceed your exact specifications.
Factoid: CNC controllers are devices that control machines and processes. They range in capability from simple point-to-point linear control to highly complex algorithms that involve multiple axes of control. CNC controllers can be used to control various types of machine shop equipment. These include horizontal mills, vertical mills, lathes, programable drill presses, turning centers, metal grinders. The number of axes controlled by CNC controllers can range anywhere from one to five, with some CNC controllers configured to control greater than six axes. All need cutting tools made for specific applications. Made to order from blue print drawings, or from submitted samples.
SFS Carbide Tool, Inc. is completely dedicated to producing the finest quality solid carbide cutting and machining tools that money can buy. Accordingly our company's Quality and Mission statements go hand-in-hand. Every order will be manufactured with the utmost attention to detail; while maintaining the best possible production time possible to meet or exceed our customers' expectations with respect to quality, cost and delivery.
Every SFS Carbide Co. employee will strive to maintain open and clear communication, to maintain high quality production standards, to readily adapt to production changes by seeking continuous improvement, and to be open minded to all suggestions and feedback from our clients. SFS Carbide is ready to meet your exact application needs. Our engineers are capable of working from existing designs or starting from scratch to develop truly specialized tools for industrial and commercial applications. Whatever the case, we'll work closely with you to determine the correct tools for your application. Give us a call or use our quote request form.
---
Click here to view our Sidewinder Vinyl Cutting blades for sign makers
Quality you can trust
This combination of the best materials, custom engineering, and state-of-the-art manufacturing and inspection processes makes SFS Carbide Tool the leader in solid carbide cutting and milling tools. Call for some referral customers who claim these are some of the best tools that money can buy.
---
SFS also specializes in custom made and build to stock solid Carbide burring-cutting-boring and milling tools for industrial and commercial metalworking uses. We have added a easy to read -print and download PDF catalog for you to see some of our stock and made to order Carbide tools. Give us a call at 1-989-777-3890 for custom quotes or talk to our engineering department on your job requirements.
Click Here for a low resolution SFS catalog ...1.4 MB file
( *suitable for online viewing )
Click Here for high resolution SFS catalog ... 11.2 MB file
(** recommended for offline viewing -right click link and save to hard drive)
---
SFS Carbide Tool, Inc has been a leader for nearly 80 years in the fabrication of the most difficult and demanding special cutting tools. Combined with our ISO 9000 Quality Assurance Program, we offer reliability, innovation and personal service for any application. Servicing the Automotive, Aerospace, Mining, Agriculture, Military, medical, dental and Optical Industries since 1921. Our customer base is now International with customers in Canada and Mexico. We can work direct with you or assign a local distributor for technical service and support for any precession machining application.
Samples of our custom made Carbide Ball cutters for boring and porting out NASCAR racing engine cylinders. Carbide tipped tools for precision CNC machining applications, metal working and industrial punch press requirements, demand the exacting standards offered to all customers of SFS Carbide Tool, Inc.
Our vision is to make the name SFS Carbide Tool Co. synonymous with the phrase "easy to do business with" making us a leader in manufacturing "application specific" solid carbide cutting tools since 1921. We worked side by side with the world's most demanding metal working job shops and manufacturers. For high speed machining of hardened metals think of one name: SFS Carbide Tool Company.