MISSION STATEMENT: SFS Carbide Tool, Inc. is completely dedicated to producing the finest quality solid carbide cutting and machining tools at a competitive price. Another primary goal is to help reduce your overall tooling costs. Leverage our 90 years experience manufacturing tooling to meet or exceed our customers' expectations with respect to quality, cost and delivery.
Tools for the Jet Aircraft Industry...
Since the 1950's SFS has worked with Ceramic Core Facilities, who make the cores that create the air passages to cool the jet engine turbine blades and vanes. We manufacturer a variety of small tools with cutter diameters from .015 ~ .060 to size holes as the pedestal dies wear. We also make routing cutters to remove parting lines on the outer perimeter of the cores. Special tool coatings are used to increase the tool life.
After the turbine blades and vanes are investment cast, they are subject to many inspections. Critical air flow must be correct. All parts must be defect free. Tolerances and radii must be correct on leading and trailing blade edges. We manufacturer a variety of Special carbide deburring tools and end mills that allow these parts to pass final inspection.
The aircraft jet engine tools have various shapes with diameters from 1/16' ~ 1/4" and O.A.L. to 6". Flute lengths vary from 1/8" to 3/4" and tool geometry is designed to cut "super alloy" materials.
SFS Carbide also manufacturers a variety of taper tools with small tip diameters and various degrees of taper to open air way passages on trailing edges of turbine blades and vanes. The tip diameters could be as small as 0.010. Special end mills with special geometry are also used for CNC machining jobs.
---
Every SFS Carbide Co. employee will strive to maintain open and clear communication, to maintain high quality production standards, to readily adapt to production changes by seeking continuous improvement, and to be open minded to all suggestions and feedback from our clients. SFS Carbide is ready to meet your exact application needs. Our engineers are capable of working from existing designs or starting from scratch to develop truly specialized tools for industrial and commercial applications. Whatever the case, we'll work closely with you to determine the correct tools for your application. Give us a call or use our quote request form.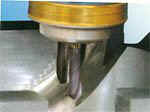 Drills -Routers -Reamers -End Mills
Samples of our custom made Carbide Ball cutters for boring and porting out NASCAR racing engine cylinders. Carbide tipped tools for precision CNC machining applications, metal working and industrial punch press requirements, demand the exacting standards offered to all customers of SFS Carbide Tool, Inc.
We operate a tool refurnishing program that will make your worn out cutting tools into like new condition saving you a substantial amount of money. Call to arrange pricing on our refurbishing and tool sharpening services.

Take a look at our automotive engine building CNC machining tools
Quality you can trust
This combination of the best materials, custom engineering, and state-of-the-art manufacturing and inspection processes makes SFS Carbide Tool the leader in solid carbide cutting and milling tools. Call for some referral customers who claim these are some of the best tools that money can buy.

HardFace Coating improves cutting tool performance by:
| | |
| --- | --- |
| | A. Isolating the tool from the part to avoid edge buildup and - tool cratering. |
| | B. Reducing friction against workpiece and chips. |
| | C. Reducing spindle torque. |
| | D. Providing less vibration, better finish and cleaner cuts. |
| | E. Increasing speed and feed 10 to 50% over competitor tool sets. |
| | SFS has all types of metalic coatings and finishes for their complete line of cutting tools |
SFS also specializes in custom made and build to stock Micro-fiber hardened Carbide burring-cutting-boring and milling tools for industrial and commercial metalworking uses. We have added a easy to read -print and download PDF catalog for you to see some of our stock and made to order Carbide tools. Give us a call at 1-989-777-3890 for custom quotes or talk to our engineering department on your job requirements.
Click Here for a low resolution SFS Carbide Tool catalog ...1.4 MB file ( *suitable for immediate online viewing )
Click Here for high resolution SFS Carbide Tool catalog ... 11.2 MB file (** recommended for offline viewing -right click link and save to hard drive)
SFS Carbide Tool, Inc has been a leader for nearly 80 years in the
fabrication of the most difficult and demanding blueprint special cutting tools. We have developed a "lean" manufacturing processing system with the latest in CNC grinding technologies. Combined with our ISO 9000 Quality Assurance Program, we offer reliability, innovation and personal service for any application. We handle both Prototype and Production orders (from 1 pc. to 10,000 pc runs)

Servicing the Automotive, Aerospace, Mining, Agriculture, Military, medical, dental and Optical Industries since 1921. Our customer base is now International with customers in Canada and Mexico. We can work direct with you or assign a local distributor for technical service and support for any precession machining application.
Perfection... You demand it. And at SFS, we work to guarantee it. Both in our products and our services. To us, the perfect cutting tool is one that will not let you down. A cutting and polishing tool that maintains its strength and accuracy even in industry's harshest environments. To keep our high-speed steel, carbide tipped, or solid carbide cutting tools up to the task, we craft them from only the finest materials available. A difference you will appreciate every time you put us to work to create just the right tool for your production line.

Precision Knife Cutting blades for the sign making industry
If you're in the business of making vinyl signs there's no better line of knife blades you can buy than Sidewinder™ blades. Our blades are made to fit Gerber, Ioline, Roland, Mimaki, Allen Datagraph, Anagraph, Mutoh, Summagraphics and more. In addition, they're honed from durable virgin sub-micron DURA-MAX® 2000 carbide and fine tuned to a razor's edge. And all Sidewinder vinyl cutting blades are newly manufactured blades. SFS Carbide Tool Co. does offer a blade resharpen service for volume customers and we can duplicate from samples or blue prints, for all brands of plotter cutting blades upon request.